An effective promotional item needs to be useful, and used often by the client or employee to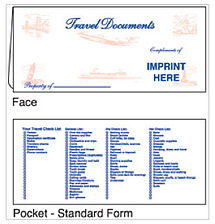 whom it is given. In industries that require frequent domestic or international travel, there are few more useful items than a travel document organizer. This makes it this a highly effective item for use as a promotional product. Frequent travelers often find having a single place to store their airline tickets and passes, ID and credit cards, receipts, and other necessities in an organized and convenient manner makes travel significantly easier and less stressful. A well-designed travel document organizer is even more essential for international trips, when the traveler also needs to keep track of their passport and foreign currency or traveler's cheques. The necessity of such an organizer makes it an ideal tool for business promotion, when done correctly.
How can using a travel document organizer as a promotional item be done wrong, when it's such an essential tool for traveling? In more ways than you might imagine. First, the natural tendency of many companies when selecting items to use as promotional gifts is to make them as inexpensive as possible – which makes a certain degree of sense when these items are being given away for free. But with some items, a cheaply made gift is worse than no gift at all. A travel document organizer is likely to endure a great deal of wear and tear as its owner navigates crowded airports, passes through customs, patronizes numerous shops and restaurants, and tosses it onto the hotel nightstand at the end of a long day. A cheap organizer that starts falling apart and threatening the safety of its owner's documents will only add to the traveler's stresses, and is not going to leave a positive impression of the company that gave it to them.
In addition to being sturdily made, a good travel document organizer should be well designed, such that all of the documents stored in it are simple to find and easy to remove and replace. A passport pocket that is too snug for the document it holds can easily cause unnecessary stress and delays at the airport or customs line. Different types of travelers may have different needs; a business traveler who is compensated for certain expenses during their trip may need a separate pocket for receipts. Some owners may value the protection of RFID blocking to keep their personal information safer. Careful consideration should go into the design and selection of an organizer intended for use as a promotional item; some choices may require a little more investment, but will make for a much more effective organizer, much to the relief and gratitude of its eventual recipient.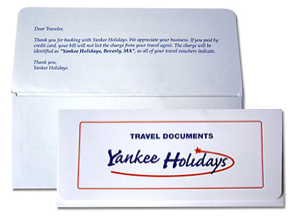 The other necessary component of a travel document organizer intended as a promotional item is that it should display your brand and message in an accessible and useful way. Like all promotional items, your company name and logo should have a prominent position on the organizer, as well as your contact information such as a website or telephone number. Consider your options for the placement of these details, and who the target audience is. Where and how your business name and logo are placed may change depending on whether you wish to reinforce your marketing message to the organizer's owner, or if the organizer is to serve as a mobile billboard for others seeing the item in use. Color and style choices are also important. Not only do you want the color and formatting to complement your company's logo and themes, but the organizer itself also needs to be reasonably attractive to the user. A travel document organizer is essentially a piece of luggage, and it's much more likely to be used and appreciated if it looks pleasant enough for its recipient to carry it around in public. These simple choices can make a big difference in your marketing effectiveness.