Appointment book | Calendars | Planners

One of the lowest cost ways to keep your brand in front of clients and prospects every day of the year is with a custom appointment book planner. Dataguide offers appointment book calendars with numerous options at incredible prices. Choose leatherette or color covers, choose either full size, 8 1/2 x 11 or compact size, 7 x 10. Add your own custom title page to highlight offices, contact information, and the services you offer. you can even add your logo and company name to each calendar page of the book.

Choose a weekly or monthly appointment book adding various optional pages to meet your needs. Standard appointment book calendars include the following mini calendar / personal information sheet, area code listing for the entire country (alphabetic and numeric), important event and phone number chart, 12 full page month at a glance calendar grids, and a look ahead calendar for the following year.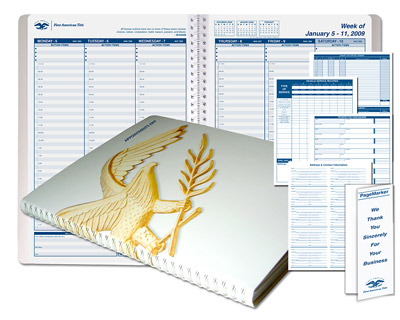 Appointment book calendars are especially popular in the real estate industry and Dataguide has numerous pre-designed options to make your Appointment book even more effective.
fully customized intro page front and back
choose a hard or soft cover
Real estate data tables and specially designed real estate pages
Important event and phone number chart
12 full page month at a glance calendar grids
Mid December of the previous year at the front to mid January of the following year at the back
Monthly expense summary for all 12 months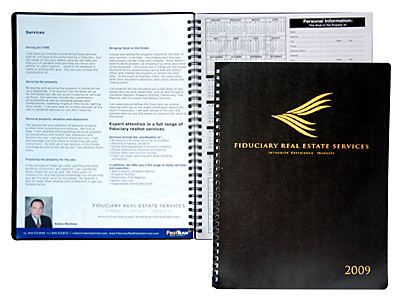 A look ahead calendar of the following year
Vehicle service records (2 pages)
Address and contact pages
Built in page marker that tucks in to mark your place.
Area code listings for the entire country alphabetic and numeric
Real estate data tables
Wrap around or two piece covers available when you choose the leatherette cover option
Various colors of leatherette material available