Turn Website Visitors Into Leads & Sales
Website traffic is great but what you really need are leads and sales. Our virtual decoder program engages website visitors and gives them an incentive to provide you with actionable data that you can use to turn unknown visitors into live leads that have a real chance of becoming a customer.
WebDecoder® Technology
WebDecoder® technology conceals a hidden message or image that can be revealed using a unique chromatic decoding image on a web site, TV, kiosk, large screen displays, or a POP display. The WebDecoder®; game piece is decoded by the consumer by placing the game piece over a specific colored image that allows the message to be revealed. Response rates have ranged from 10% to 35%.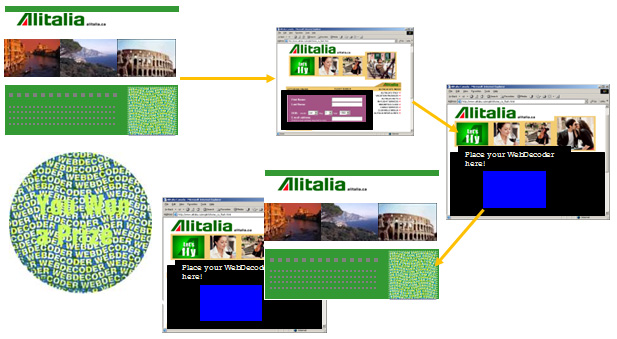 Everyone Wins!


This client had positive feedback when they used the WebDecoder® as a strategy to save the company money. WebDecoder® messages were mailed to 80,000 of which 40,000 were potential candidates. 12,000 signed up for online services. A savings of over $600,000, plus customer retention is statistically higher.

VirtualDecoder™ Application
VirtualDecoder™ does not require any printed pieces for the promotion
The promotion is communicated to clients via home page, TV, Radio, direct mail, etc.
Consumers completes registration details and are forwarded to VirtualDecoder™ game play page
Once the consumer has completed their registration detail, the VirtualDecoder™ Game piece
is delivered on-screen
The participant positions the VirtualDecoder card over the hidden message to reveal their
prize award or value offer