Accordion Folder Becomes A Discharge Kit Providing Big Savings
If patients return to the hospital after being discharged that costs both the hospital and the patient. Research shows that many readmissions are caused by a lack of clear easy to follow after care instructions, using an accordion folder to create a custom discharge kit can solve that problem and provide big savings to both the hospital and patient.
Check out this custom accordion folder used as a discharge kit and organizational tool where detailed discharge instructions covering everything from doctors notes to physical therapy guidelines is organized and easily accessible.
The "Discharge Folder" includes 12 sections with color-coded labels. The labels are categorized for ease of use.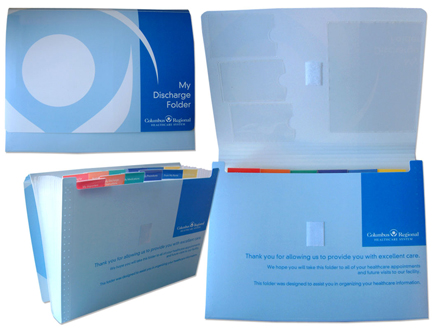 Important documents.
Discharge instructions.
Medications.
Procedures.
From my nurse.
From my physician.
Planning for discharge.
Nutrition.
Speech.
Cardiopulmonary.
Physical therapy.
Other.
The Discharge Folder is compact, easy to carry, and made from lightweight durable plastic, it includes the hospital information as well as a clear sleeve for prescriptions and 3 business card holders for referral information to other partner providers.
The Discharge Folder provides patients with a professional organizational tool that will make following detailed instructions easier leading to a quicker recovery saving everyone involved money, time and aggravation.
Document Holder for Healthcare and Hospitals
The EXPO or HeRO document holder is the perfect document holder for the Healthcare industry. These custom folders give professionals an organized way to present patients/clients their filed paperwork in one holder.
The EXPO is constructed using one piece and expands to allow for papers to be easily inserted and removed. Our HeRO is similar but uses an accordion style expansion. The image below is an example of the HeRO with accordion expansions. Both document holder versions are a great option and can be designed to accommodate your organizations specific needs.
The EXPO and HeRO document holders are available in various sizes and can be completely designed to your professional organization.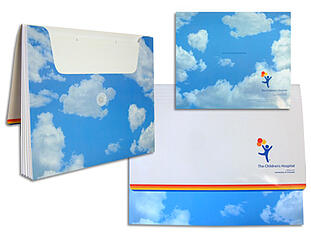 Dataguides premier EXPO and HeRO organizer are custom document holders with optional custom tab inserts for packaging important documents. The optional internal tabbed folders or tab inserts are printed with your required information. Customized tab sets will give your patients/clients the perfect way to organize loose documents, booklets, forms, brochures and business cards.

Important documents can be stored in their own tabbed folders or tab inserts making it easy for your patients/clients to find them. Healthcare industries can also advertise services while keeping their clients essential paperwork in one document holder.
Customize each tab with their own label. Some of the benefits for utilizing tabbed folders or tab inserts
are listed below: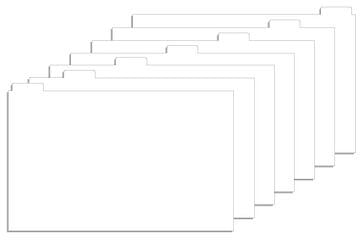 • Clearly Marked

• Custom File System

• Predetermined Filing

• Convenient for Patients/Clients

• Promotes Services

A
n
EXPO or HeRO
document holder
is a helpful and professional way to organize multiple documents while promoting services to existing or potential patients/clients.
Turn the EXPO or HeRO
document holder
into a unique advertising tool by using your organizations identity.
Creating a custom
document holder
allows patients/client to easily identify the
document holder
and can access their paperwork quickly.