Patient Guide / Discharge Folders Improve Care, Reduce costs
Being in the hospital is difficult, it's disorienting, disruptive, scary, and often painful. For those who work there everyday and deal with dozens of patients the hustle and bustle seems commonplace and just another day at the office, but for patients there is nothing common about it, for many it's one of the most difficult ordeals they've ever faced. How can hospitals improve the experience, make patients feel better about their stay and most importantly make sure the recovery continues once the patient is released and sent home? Many hospitals have found a simple, effective and low cost answer to this very question, Better communication from the moment the patient arrives to the moment they are released.
Free Guide To Reducing Hospital Readmissions:
Successful hospitals have found that better communication both face to face and with the printed word can have profound results. Many have implemented a patient guide that is the first thing a patient receives upon admission and the most important thing they take with them upon discharge. A guide that keeps them informed about everything going on during their hospital stay and a folder that provides precise instructions on the steps they must take at home to ensure a continued recovery.
Think of it from the patients perspective. In the hospital they are poked and prodded by multiple people that change every shift, they are given verbal instructions constantly from different people, they are often groggy or half asleep and can barely remember their name let alone the instructions and updates they continually receive. a patient guide acts as a textbook outlining what is going one, what happens next, what to do when they get home, and how to make sure they don't return. Like a textbook it's an ongoing reference they can refer to over and over so they don't have to worry about forgetting the latest instructions they just received.

Re-admissions cost both the hospital and the patient and often they can be prevented. Studies show that many re admissions are caused by a lack of easy to follow after care instructions. Creating a patient guide that improves communication in the hospital and converts to a custom discharge kit to house a clear and concise discharge plan can solve that problem and provide big savings to both the hospital and patient.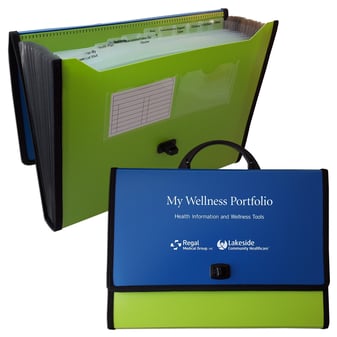 A patient guide / discharge folder is an organizational tool that helps the patient navigate the time in the hospital and a place where detailed discharge instructions covering everything from doctors notes to physical therapy guidelines is organized and easily accessible for the patient when they go home to complete their recovery.
The patient Guide shown to the left is compact, easy to carry, and made from lightweight durable plastic. It includes tabbed sections to organize hospital information as well as a complete discharge plan for the patient to follow once they go home. Business card holders are conveniently attached to the inside panel for easy to find contact details.
A well designed patient guide or patient discharge folder is a professional organizational tool that will help patients recover quicker saving everyone involved money, time and aggravation.
Patient guide / discharge folders comes in multiple styles
A well designed patient guide or hospital discharge folders should be more than a tool to improve patient care and reduce costs it should also promote the hospital brand. a hospital is more than a place to cure people it's also a business and like any business it needs to promote it's brand and differentiate itself from the competition. When a patient leaves the hospital with a professionally designed discharge folder they and everyone helping with their care is continually reminded of the hospital brand and the high level of care they provide.

An effective patient guide or hospital discharge folders can come in many different styles from simple to more elaborate as long as it achieves the goal of promoting the brand and improving patient care at low cost.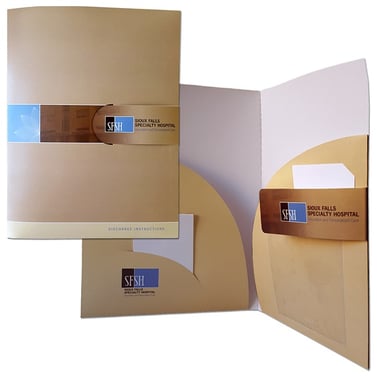 The EXPO folder shown below expands to allow for papers to be easily inserted and removed. It includes tab dividers to organize material into important categories as well as clear plastic business and sleeves for important contact information. The Expo is compact, durable, easy to use and is one of the most popular styles.

Other options include presentation style folders like the one shown to the right. These can be simple pocket folders or enhanced with special die cuts and closure systems as shown.
some hospitals choose a simple plastic envelope such as the Sutter health sample shown below, others choose a twelve pocket plastic folder with color coded labels extra business cards sleeves and prescription sleeves. They all work and help hospitals improve care at low cost.