About Dataguide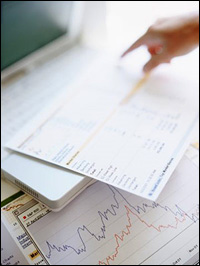 Dataguide is a rare breed of company. We're a blend of the most cutting edge innovations and some good old fashioned business ethics. The company has evolved to keep pace with the vast changes technology and globalization has brought the printing and distribution industries.
Learn more about what we offer...
A Brief History
Founded 1976 in New England and incorporated 1977, our company started out specializing in distribution and management of forms and printed products.

In 1982 a travel graphics division was founded to focus on emerging technology services in the travel industry. The travel graphics division grew through the 1980's to the point where we were serving customers in all 50 states. In early 1987 Dataguide was appointed as the preferred supplier to Uniglobe International Travel, which eventually grew to over 800 agencies worldwide.

As we grew we benefited from being appointed a preferred supplier to numerous travel consortiums and organizations such as International tours, Commonwealth Travel group, Woodside International travel and Travel savers. At the start of the 1990's we became a preferred supplier for SABRE related products and quickly began accepting orders via the international recognized system. This momentum in the travel industry rapidly extended to creating a position in the United Airlines owned APOLLO computer reservation system. As preferred supplier for Apollo related products Dataguide immediately started accepting orders via their system.

To improve our contact with our national clients we opened a West Coast office in the San Francisco Bay area in 1988. This move allowed us to begin servicing the growing West Coast title insurance industry with clients like First American Title Insurance.
From 1993 - 1998 Dataguide experienced rapid expansion within the title and travel industries. This growth allowed the establishment of a stronger nationwide supplier and warehouse network.

By 2000 we had expanded our custom specialty products service to Real Estate Services clients, this was supported by investing in our Asian supply imports. At the same time we introduced online ordering and inventory management offering real time inventory fulfillment and distribution to select client base.

In 2001 Dataguide became a member of ASI and the PPAI to provide growing clientele with access to the promotional products industry and the thousands of products available through these networks. The addition of live promotional products search engine to Dataguide Web site Access to complete information on over 100,000 promotional products.

Also in 2001, our Real Estate Services Division became a preferred supplier to RE/MAX International servicing over 65,000 independent real estate agents nationwide.

From 2002 through 2005 we commissioned major upgrades and enhancements to online ordering capabilities including the addition of online proofing and variable imaging. These improvements allowed customer controlled ordering and requisition of variable copy images with up to 3 levels of internal approval. The addition of Company store module allowing visual identification of all available customer products.
In 2006 we launched our new website to further enhance the customer experience and reduce costs for our clients. New partnerships with service providers in the real estate markets have been developed and will be the foundation for an aggressive campaign to expand our reach in that sector.
We're looking forward to another banner year and building stronger relationships with our existing and new customers.