Case Study: Childcare Project
The Problem
When the non-profit agency Childcare Project contacted us, they had several pressing problems. First, they were drowning in paperwork. Many of the essential forms used to meet state requirements were excessive, required unnecessary duplication and drained precious funds better spent on their primary mandate - caring for children.
Further, with no vehicle to properly organize important documents, providers risked legal trouble, loss of funds and even loss of license. Finally, Childcare Project also lacked a high-impact image to increase their visibility in the community and expand their services.
Dataguide's Solution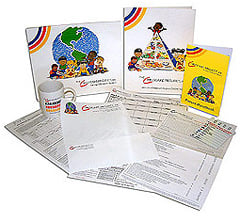 We immediately examined the various forms the agency used on a daily basis. We asked key questions of the staff and put our 25 years experience to use. We recommended several changes which eliminated the waste and inefficiency, which saved the agency thousands of dollars in printing costs.

Next, we recommended a durable accordion style records organizer to maintain each child's important documents. Now, providers faced with an emergency situation have instant access to medical records, parental authorization notices and other crucial paperwork.

Finally, our talented in-house design team went to work on a multi-color, high impact image which the agency could incorporate into all its outreach efforts. This new identity was a huge hit and now adorns all agency letterhead, envelopes, handbooks, business cards, presentation materials and promotional items.
Results
Significantly less paperwork
Less costs for printing unnecessary forms
Better organization of paperwork
Professional presentation of documentation
Case Study: International Education Finance Corporation
The Problem
The IEFC specializes in securing loans for students to study abroad. Already a successful company poised for continued growth, IEFC contacted us to enhance their corporate image, streamline their print communication and cut costs wherever possible. After reviewing their needs and discussing various options with them, we made several recommendations.
Dataguide's Solution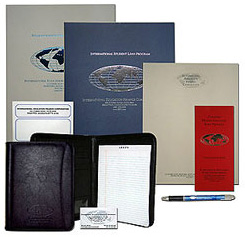 First, our designers revitalized the IEFC logo using a foil stamp process to create a sharper, cleaner and more professional-looking image.

Next, we recommended using lighter paper stocks for marketing materials sent through the mail. This helped to significantly reduce postage costs which have spiraled out of control.

In addition, we implemented gang run production of employee business cards, envelopes, letterhead and presentation folders. This enabled IEFC to not only lower costs, but also ensure every employee had access to essential business materials.

Finally, as an important industry conference approached, IEFC asked us to help locate the perfect promotional item to give to attendees. We put our state-of-the-art search engine to use and came up with several different options. The result was a hugely successful conference which gave IEFC the opportunity to promote its new look and reach out to hundreds of potential clients.
Results
Lowered costs related to printing and production
Enhanced image and design features
Easy online access to ordering corporate stationary