Plastic Accordion Folder | Plastic Expanding File
A custom branded plastic accordion folder is a great way to promote your business and remind customers of the services you provide. For companies in the information business like banks, title companies, financial services companies, or mortgage providers a custom printed plastic expanding folder provides a long lasting durable marketing tool and a perfect package for the important documents you provide your customers. When you give clients a custom printed plastic accordion folder to house important documents you know they'll use it over and over again and constantly be reminded of the services and products you provided.

These custom printed plastic folders are available in numerous styles and sizes with features such as business card sleeves, various levels of expansion, Velcro or elastic closure systems and various numbers of pockets.
A new popular option is a plastic and fabric accordion folder that provides both utility and elegance. The fabric allows for numerous additional options such as additional flexible pockets. Pen sleeves business card sleeves and even mesh pockets. The plastic and fabric folder shown below includes a functional pocket on the front, inside panel with pen and business card holders. As well as a mesh pocket on the back.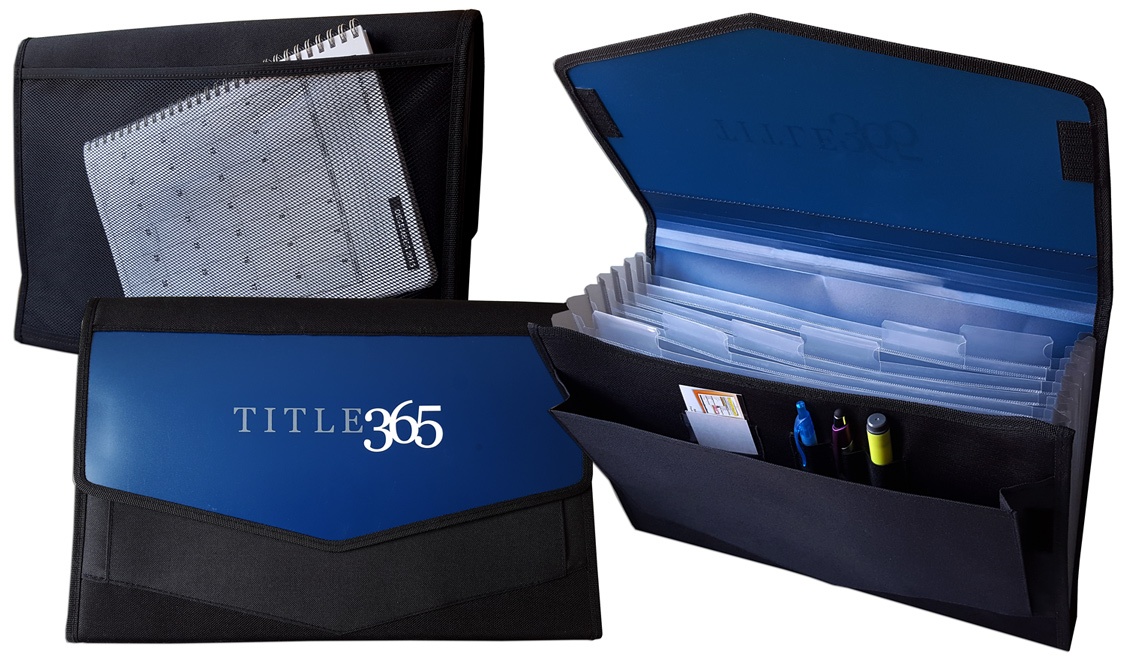 This unique combination of plastic and fabric allows you to create a professional pocket folder that not only packages the important information your customer needs to hold onto, but promotes your brand while providing your customers with a useful tool that they'll use and refer to for years to come.
Plastic accordion folders and expandable file folders can create a perfect marketing package for a variety of industries:
College and University Orientation Kit
Employee Orientation Package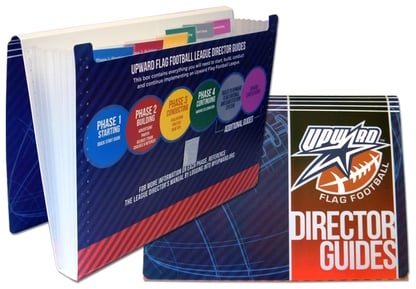 Tax Documents
Media Kit
Health Care Documents

Real Estate and Title Documents
Youth Programs

Membership Forms
Product Information Kit
Expandable file folders fit multiple loose pages, booklets, brochures and can expand with Velcro for convenient filing. The image below is a great example of how the expandable file opens and can be securely fastened for effortless access to all documents.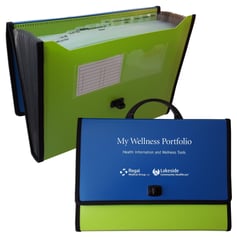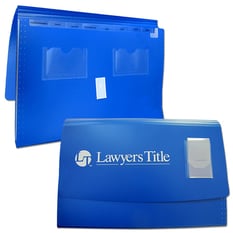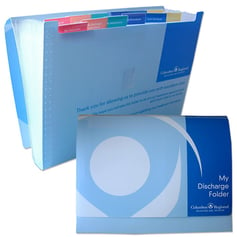 Need a plastic accordion folder with your logo in smaller quantities?
While custom printed plastic accordion folders are a great tool and an effective way to promote your brand they often are only available and affordable in large quantities. Now these unique and versatile promotional tools are available printed with your logo in quantities as low as 48 units.


Plastic accordion folders; packaging and marketing tools that work.