Custom Business Checks | Printed Business Checks
Of all your business documents business checks are some of the most important and frequently used. From payroll checks to accounts payable checks, from escrow checks to multi purpose checks, these documents are a requirement for doing business today. Not only does every business use custom business checks, but every business also needs to make sure they stay secure and are not vulnerable to fraud.
Custom business checks are available in many different formats from laser cut sheet business checks to multi ply continuous business checks. Printed business checks can be formatted and designed for your business software along with your logo and brand information or they can be completely unformatted and exist as blank check stock where all of your company and bank information is added in special magnetic ink when the check is generated.
You may wonder why do I need blank check stock if all the relevant information about the business and the bank account will be added when the check is generated; the answer security and financial liability.
Each day hundreds of businesses are victims of check fraud and counterfeiting. Furthermore, companies now fear measurable financial losses due to counterfeiting of business documents beyond checks. Today's technology can provide anybody the tools necessary to fraudulently duplicate and manipulate checks and confidential documents. In addition to physical tampering, color copiers, PC's and scanners are now the counterfeiters' weapons of choice.
To protect your business and reduce financial liability custom business checks or any printed business checks must include some of the latest document security features to prevent or eliminate fraud. think about the millions of checks banks process every day; while they have their own steps to weed out illegitimate or fraudulent checks every business must ensure their business checks include reasonable security features to increase the protection.
Think about it if one of your custom business checks is altered or doctored and then cashed the first thing your bank will ask is "what security features did your checks incorporate to prevent fraud" if the answer is not many or none the bank may very well hold you responsible or partially responsible for the missing money.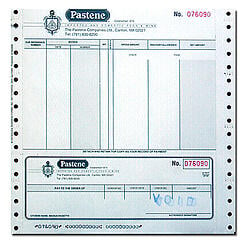 Dataguide can help you make sure all your custom business checks not only work properly with your payable system but also include the latest security features. Whether it's laser checks, continuous computer checks or even hand written checks you can have peace of mind when working with Dataguide on your printed business checks. As an added bonus you get to talk with an experienced professional that can help you find the printed business checks that work properly for your company and include the appropriate security features to ensure you're business is protected.
Don't waste time on some on line check printingsite trying to figure out how to make it work only to find you can't get the design to match the rest of your stationery, the pricing is not as competitive as you thought, and you can't figure out which security features you need. Call Dataguide today at 800-343-0583 to get all your questions answered by a professional.
Click the link(s) for more information on the the latest security features or to request a sample or a quote on your check printing project.