Discounted Gift Cards at up to 90% off gift card face values
Generate traffic, create sales, increase customer loyalty, reward referrals, and much more for as little as ten cents on the dollar.
Discounted gift cards the most innovative and effective incentive premium available, allow you to provide your customers with $250 in value for as little as $15 - $20. There's nothing else like this. More and more companies use gift cards to drive traffic and provide an incentive to purchase, but most pay full price, this unique program allows you to offer the same value to your customers and prospects at almost a 90% discount.
Gift cards represent over 30% of the incentive market now you have the chance to offer the same premium at an unheard of cost. Blow away the competition without spending a fortune. This is the only gift card incentive program that can be redeemed for 1000's of brand name products at an online virtual mall and it costs you as little as 10 cents on the dollar.
Use discounted gift cards for lead generation, direct mail, referrals, customer loyalty, driving traffic, customer acquisition, customer retention programs, or other innovative rewards. You'll get results at the lowest imaginable cost.
______________________________________________________________________________________________
Gift cards are good towards over 8,000 products and 600 brands like:

Choose one or more of these spectacular package options: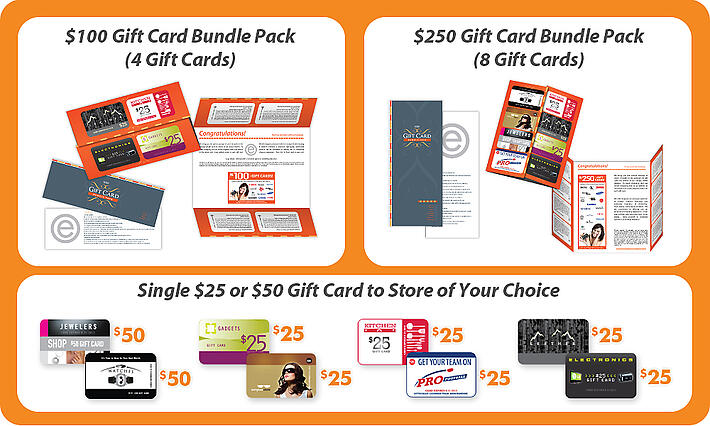 What's the catch? There is none!
EFFECTIVE RESULTS - Case study results show that gift cards are far more effective at bringing in prospective customers than marketing merchandise incentives of similar costs. The results are more customers and a lower cost per customer acquisition.
HIGH CONSUMER ACCEPTANCE - Gift cards now represent 30% of the incentive market. Gift cards have become the preferred award choice over all merchandise or service incentives. Our gift card program allows marketers to give more to their customers without having to pay full price.
SIMPLE, EASY AND CONVENIENT - No hoops for customers to jump through! Customers use their gift cards to shop for merchandise that is priced low enough for them to use their gift card credit to purchase products - as well as cover shipping charges (UPS shipping rates), so there is no customer cost to redeem. There is also merchandise available at prices higher than gift card values, and customers may choose to use their credits toward the purchase of more expensive products. Customers are able to select from 1000's of products in over 50 categories at the different store fronts.
LOW COST to the MARKETER HIGH VALUE to the CONSUMER
Click here or the image above for pricing on this remarkable business development tool