Plastic Accordion Folder | Plastic Expanding File -Customized Small Quantity
Want a custom plastic accordion folder but don't need thousands of them?
Dataguide has several options for plastic accordion folders that can be customized with your logo in quantities as low as 100 pieces.


---
4 Pocket Cascading Plastic Accordion Folder
Try a bold colored Plastic Accordion Folder with translucent pockets that are viewable at once when the folder is open. The horizontal elastic band secures documents when the folder is closed. This Plastic Accordion Folder is a lightweight option with 4 pockets to store and organize important documents.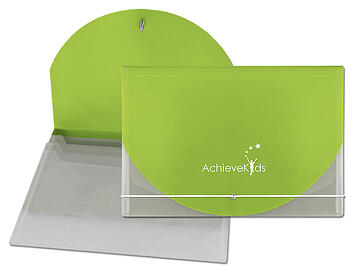 Choose from five colors: Red, Green, Black, Silver & Blue
Opens in the accordion format
Cascading pockets
Slim and lightweight
Plastic Accordion Folder size: 12 1/2"w x 8 3/4"h x 3/4"d
Minimum order of 200, 50 Per Box - 19 lbs.
Item #: PP902
As low as $3.99/ea
---
13 Pocket Legal Size Expanding Plastic Accordion Folder
This Plastic Accordion Folder includes a Velcro closure with 13 legal size pockets. This larger Plastic Accordion Folder has a wide expansion for easy access to documents. The solid plastic will protect your documents while providing an affordable solution for storing files.

Available in black plastic with two business card holders.
Personalize with your company logo
Legal size, Plastic Accordion Folder: 15 1/4"w x 9 1/2"h x 1 1/8"d
Minimum order of 120, 24 Pieces Per Box - 30 lbs.
Item #: SE423
As low as $8.50/ea


---
A
plastic accordion folder
is a great marketing tool and perfect way to hold important documents for any industry. When you give clients a custom printed
plastic accordion folder
to house important documents you know they'll use it over and over again and constantly be reminded of the services and products you provided.
Plastic accordion folders and expandable file folders can create a perfect marketing package for a variety of industries: College and University Orientation Kit, Employee Orientation Package, Tax Documents, Media Kit,
Health Care Documents, Real Estate and Title Documents, Youth Programs, Membership Forms and Product
Information Kit.


Plastic accordion folders help promote your brand.