Company FAQ
What does Dataguide do for its clients?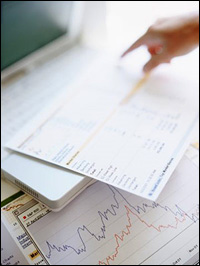 We are an independent distributor of print and promotional products providing secure web access to our clients inventory and imprint print solutions.
How is this different from a traditional printer?
Because we don't own any print machinery or specific product lines we are not restricted to what we can offer our clients. If our client needs a specialty print item that is difficult to produce, we are not going to try sell them something else just because our printer can't do the job. Our clients get exactly what they want.
Why do Dataguide clients get exactly what they want?
When a job is requested, we source the best and most cost effective production methods available from a large international preferred partner network. This ensures we are always price competitive, on-spec, and on time.
Dataguide has been around for almost 30 years, how have you remained competitive?
By adopting the latest technologies while maintaining very strong relationships with our most progressive customers we are able to provide solutions for our customers almost before they know they need them.
The Dataguide client list is impressive, why do you think you continue to attract Fortune 1000 companies?
Our staff and management are obsessed with the details of each job. Some might accuse us of being perfectionists. This makes our customers look good and gives them a good reason to refer us to other clients. Our reputation is so strong that with the exception of the retail divisions we generate almost all our business from word-of-mouth only.
Does Dataguide offer warehousing?
Yes, we operate warehouses across the US. Many of our print customers have realized that they would see huge cost savings by outsourcing non-strategic warehousing.
What types of technologies do you offer your clients?
We offer a web based inventory and document management system that can be accessed 24/7. The system supports imprint and stock item requirements for small and enterprise level businesses. Web access provides up to the minute inventory management and approval on all on-demand items, e.g. stationary and forms.