Printed Business Checks | Security Features
Optical Deterrent Technology (ODT)



Optical Deterrent Technology makes it extremely difficult for counterfeiters to reproduce checks on color copiers or scanners. The word "VOID" appears when copied or scanned. ODT is available in three different check patterns and we recommend the following ink colors:
Black | Reflex Blue | PMS 175 Brown | PMS 281 Blue | PMS 342 Green | PMS 209 Maroon
---
Paper Security Options

Level 1 - Basic Security Paper
Provides basic fraud protection. Businesses need to take charge and actively protect their negotiable documents.
Features Include:
Fluorescent Fibers | Bleach Reactive Brownstain | Solvent Based Ink Eradicator Reaction | UV Dull

Level 2 - Advanced Security Paper
Our next level of document protection incorporates more fraud deterrent features.
Features Include:
Watermark | Fluorescent Fibers | UV Dull | Chemical Reactive | Laser Compatible
Level 3 - Superior Security Paper
Our most advanced document security paper.
Features Include:
A True Fourdrinier Watermark | Visible Fibers | Fluorescent Fibers | Optically Dead Base Sheet
Full Chemical Reactivity
All security papers are laser compatible.

Copy Alert is an all inclusive security check paper for software compatible and custom checks. Copy Alert can be used as an inexpensive upgrade security paper for limited check orders. Copy Alert can also be ordered non-imprinted for check systems that print their own variable information but need fraud protection. Copy Alert Security Check Papers are available for continuous or laser cut sheet checks in three colors - blue, green, and maroon.

Features:
Optical Deterrent Technology™ | Security Bond Paper | Fluorescent Fibers | Solvent Eradicator Reaction
Bleach Reactive Brownstain | Microprinting | Warning Border | Security Padlock Icon | Screened Security Backer
---
Micro Printing

Type printed so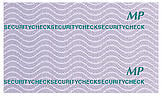 small that it appears to be a solid line and can only be read under magnification. When copied or scanned, the micro print message becomes unreadable.
---
Warning Borders

Warning Borders alert the recipient of a document that security features are present.
Our warning borders feature Border WB with the following messages:

WB1 - ORIGINAL CHECK HAS A COLORED BACKGROUND PRINTED ON CHEMICAL REACTIVE PAPER
WB2 - ORIGINAL CHECK IS PRINTED ON CHEMICAL REACTIVE PAPER AND HAS MICRO PRINTING IN THE SIGNATURE LINE
WB3 - ORIGINAL CHECK HAS MICRO PRINTING IN THE SIGNATURE LINE AND RED CHECK NUMBERS IMAGE THROUGH TO THE BACK OF SHEET
WB4 - THIS CHECK IS VOID IF MICRO PRINT SIGNATURE LINE IS UNREADABLE UNDER MAGNIFICATION
WB5 - ORIGINAL CHECK HAS AN ARTIFICIAL WATERMARK ON REVERSE SIDE - HOLD AT AN ANGLE TO VIEW
WB6 - THE FACE OF THIS CHECK HAS A SECURITY VOID BACKGROUND PATTERN - DO NOT CASH IF VOID IS PRINTED
WB7 - THE CHECK IS PRINTED ON CHEMICAL REACTIVE PAPER WHICH CONTAINS A WATERMARK - HOLD UP TO A LIGHT TO VIEW.
WB8 - ORIGINAL CHECK IS PRINTED ON CHEMICAL REACTIVE PAPER WHICH CONTAINS A WATERMARK
---
Bleed Through Numbering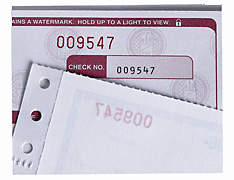 The red Arabic number on your checks and forms will bleed through to the back of the document thus verifying it's authenticity.



---
True and Artificial Watermarks



Watermarks are a very effective method of verifying that a document is an original. Security papers are available with artificial and true watermarks. Custom artificial watermarks can be printed with your logo or name.
---
Security Screened Backer



When copying our Security Screen Backers, the words "Original Document" will drop out. It also complies with the Federal Reserve Regulation CC.
---
Thermochromic Ink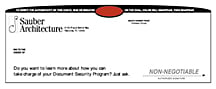 The use of Thermochromic Ink in combination with a pre-printed warning border serves as a highly effective deterrent to criminals intending to duplicate or counterfeit sensitive documents. It also provides a quick and simple method for bank tellers and officials to confirm its authenticity. These inks are specially treated to provide a color changing sequence when heated to a defined temperature range.

Our Thermochromic Ink feature is ideal for checks, gift certificates, events tickets, bank notes, P.O.S. receipts, identification cards, transcripts and more. For questions related to this "breath-taking" feature and other document security measures, please ask us. We're ready to help protect your business from the ever-growing threat of document fraud.
---