Can an accordion folder possibly be worth $40,000 to a hospital? It can if it saves them that much or more.
Everyone knows the cost of health care is sky rocketing and as a result many hospitals are struggling to survive. One hospital's Quality Care Department determined that, on average, readmissions cost them $40,000. Upon further study the hospital determined readmission often occurs due to the patient's inability to follow after-care instructions because it is unclear and disorganized.
Armed with this data the hospital set out to find a way to provide detailed, organized instructions to every patient being discharged, if they could come up with an inexpensive way to provide better discharge information and instructions that kept just one patient from being readmitted the savings could be huge. The solution: A custom accordion folder became a discharge kit and organizational tool where detailed discharge instructions covering everything from nurse's notes to nutrition guidelines is organized and easily accessible in a portable accordion folder.
The "Discharge Folder" includes 12 sections with color-coded labels. The labels are categorized for ease of use.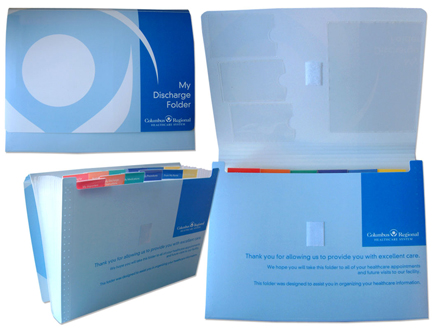 My important documents.
My discharge instructions.
My medications.
My procedures.
From my nurse.
From my physician.
Planning for discharge.
Nutrition.
Speech.
Cardiopulmonary.
Physical therapy.
Other.
The Discharge Folder is compact, portable, and made from durable plastic, it includes the hospitals logo address and contact information as well as a sleeve for prescriptions and 3 business card sleeves for referral information to other partner providers.
At the very least the Discharge Folder provides each patient with a professional organizational tool that will make following detailed instructions easier leading to a quicker recovery. If it achieves it's goal of preventing even one patient from being readmitted, the accordion folder turned Discharge Kit will pay for itself ten times over making it worth $40,000 or even more.