Every business person knows it's much easier, and less expensive to sell something to an existing customer than it is to find and acquire a brand new customer. The standard rule of thumb is that it costs six times more to sell something to a prospect as it does to sell that same thing to an existing customer. That stat alone should provide plenty of incentive to focus a significant portion of your marketing budget on educating and cross selling existing customers.
The first step and one of the simplest ways to sell more to existing customers is to remind them of all the products and services you offer every chance you get. Washington Savings Bank uses a custom accordion folder as a new customer welcome kit that not only provides new customers with a colorful organization tool but also promotes the banks brand and begins the cross selling process the moment a new customer signs on.
The key is that not only does the accordion folder turned welcome kit include all the appropriate new customer documentation but also includes reminders of all the banks services and incentive coupons to sign up for or try out those services. The accordion folder / Welcome Kit allows Washington Savings Bank to begin cross selling to existing customers from the minute they become a customer.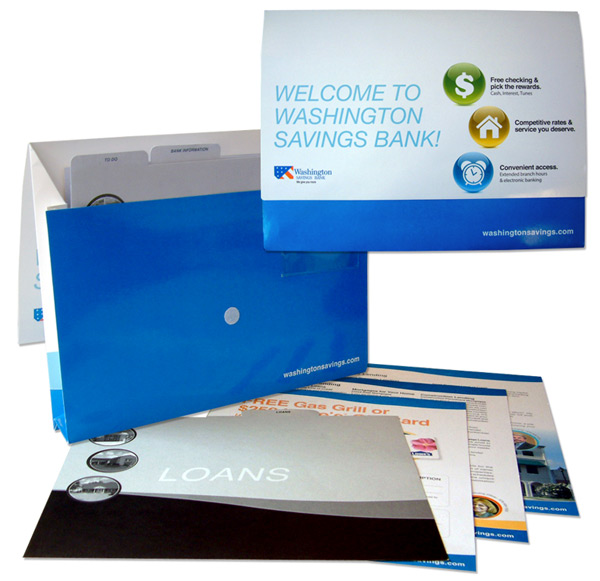 Not only does the Welcome Kit include copies of the appropriate account opening documents, it also includes all the information a new customer needs about the bank. Everything including a letter from the president, Office listings and locations along with office hours and contact phone numbers, an outline of all the retail banking services they provide as well as all the business services they offer.
More importantly they've included incentives in the form of coupons to entice new customers to sign up for and try some of their more profitable services; direct deposit, on line bill payments, debit card purchases and the most valuable a refer a friend certificate. They also include an entire section on all their personal and business lending services along with a full page outline of their $250 gift card program for any home loan closed.
Clearly Washington Savings Bank has mastered the art of cross selling and up selling existing customers. Turning a custom accordion folder into a Welcome Kit for brand new customers allows that process to begin the moment they bring a customer on board, and to continue every time that new customer refers back to the kit which also serves as a handy document organizer.
There are lots of ways to generate new business from existing customers, integrating that strategy into the welcome process is a very smart way to get started.