When ordering printed marketing materials or promotional items with your brand colors, it pays to know that the colors you see on a proof on your computer screen will not necessarily match the colors of the finished, printed product.
Promotional marketing companies send proofs via email so you can review the artwork on your computer before approving the artwork and giving the company permission to begin printing.
However, colors viewed on a computer screen can look different than the same colors printed on a brochure, a t-shirt, an accordion folder, or what ever printed marketing product you might be ordering. That's because two different technologies are at work on a computer monitor and the process of printing.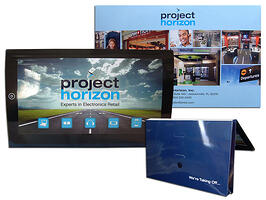 Colors on a computer monitor are created using RGB; monitors mix shades of red, green and blue to create all the colors you see on the screen. In contrast, the printing process uses either PMS, colors from the PMS matching system or CMYK which mixes the 4 colors cyan, magenta, yellow and black to create all the colors you see in print. To complicate things further you can also use CMYK to create PMS colors by following each PMS color's CMYK formula, when doing this however you must remember that a CMYK conversion will never give you a pure PMS color.
The bottom line is that anytime you are viewing a proof on a computer monitor you are not seeing the true colors but instead you see a representation of either a PMS color or CMYK colors, created using the RGB technology. The final printed color will be close to what you see but not exact, however if you specify a particular PMS number or a specific CMYK formula your finished printed product will be correct.
It gets real tricky for both the printer and the customer, when the customer receives the finished product and decides they like the color shade they saw on the computer better than the PMS or CMYK color specified but that's a story for another day.