Purchase of a new property is an exciting time for home buyers. When that closing date finally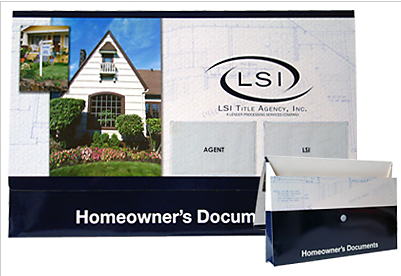 arrives, there are a lot of things to keep track of and a lot of paperwork to complete. If you're the title settlement company assisting in the transaction, it can be difficult to help your clients while still taking the opportunity to market your brand.
Yet, that's exactly what you should be doing. Chances are, the buyers you are assisting today will become property purchasers again in the future. They will be in position to tell their real estate agent that they have a preferred title settlement company. They will also have the opportunity to recommend your company to their friends and family.
Helping Clients Stay Organized
One of the most important ways you can market your brand to clients is by building a positive image of your company. In nearly all cases, the buyers are coming to the closing in a positive frame of mind already; all you need to do is build on those feelings and associate your brand with the experience. What better way to do that than to provide a document folder converted into a home records organizer?
A branded document folder bearing your company's logo and corporate colors will help to tie the positive experience of closing on a new property to your title settlement company; clients are sure to appreciate a way to organize the many important documents they must hold onto.
Keeping Your Brand Top of Mind
Mark and Kate were excited and a little nervous when they arrived at the title settlement company to close on their first home. They knew there would be a lot of papers to sign, but they still weren't quite prepared for the stack of settlement papers waiting for them. Their real estate agent introduced them to the title settlement company's settlement officer, Janet, who explained each step of the process. When complete, Janet put all of their copies of the paperwork into an attractive document folder, along with her business card.
Less than two years later when Mark's parents were getting ready to purchase a smaller home,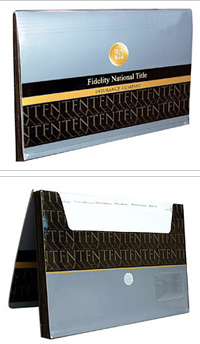 Mark and Kate remembered the helpful woman with the title settlement company and pulled the document folder from the desk in their home office. Janet had left a positive image not just with her helpful and confident attitude, but by providing the young couple with an appealing and branded document folder that allowed them to stay organized at the busy closing.
Marketing is Essential
As a title settlement company, you meet with property buyers who have come into contact with a number of professionals during the home buying experience, from real estate agents to lenders to title settlement officers. You may have little opportunity to provide the type of branded marketing materials that come into play for other businesses involved in the home-buying process.
But you do have the opportunity to put your company's brand in front of the client with specially printed document or accordion folders specifically designed to become a home records organizer. A well designed home records organizer is something homeowners will use over and over for years to come.
Branded document folders are particularly important marketing tools for businesses like title settlement companies where clients are provided a service rather than a set of goods. Just as attractively branded packaging helps to market the company responsible for manufacturing a particular product, inserting all the closing documents into a branded document folder creates a package that helps your customers and promotes your brand at the same time.