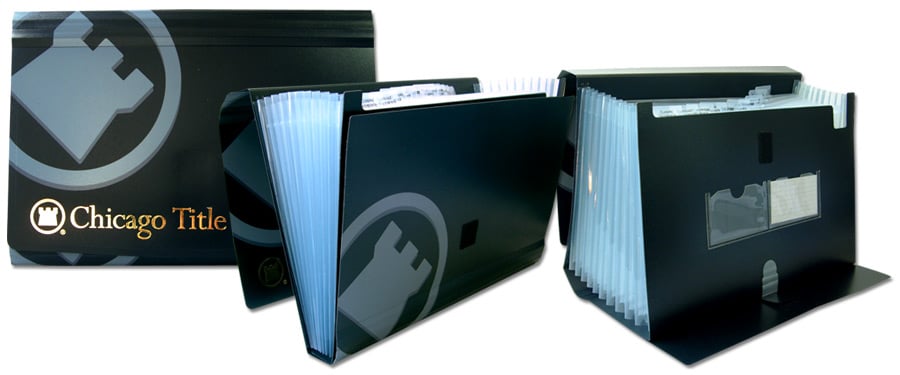 Investment firms know, more than most businesses, just how important image is in building a company. Clients don't merely have to be sold on the investments themselves, but also on the company. An investment firm that isn't projecting an image that suggests strength, confidence, and above all stability is one that's going to have a hard time attracting high-powered clients.
This needs to be carried through in every area of an investment firm's business, from their lobby design to things as simple as their document holders and product packaging.
High-quality accordion folders are a great way to promote the brand as well as the image of strength and stability. Whether its a client welcome kit, an investment offering package, or a long lasting client organization tool, a well designed accordion folder is a permanent reminder of your brand and all the services you offer to those who've chosen to put their trust in you.
Three Ways Accordion Folders Work For Investment Firms
I. Client Welcome Package
Choosing an investment firm or financial planner is a big decision that's usually only reached after a lot of thought, research, and discussion with competing firms. When a new client decides to sign on they're often anxious about whether they've made the right choice. A well designed welcome package can ease that anxiety and immediately send the message that they're entering a successful long term relationship.
In today's fast paced electronic world it's comforting after making a big decision to walk away with something substantial that reinforces the decision and shows it's a long term commitment.
An accordion folder turned into a well designed client welcome kit reassures each new client that the investment firm is in it for the long haul and is determined to create a successful relationship.
Often the first step for the client is to hand over a check to open their account, receiving a detailed welcome kit in return solidifies the relationship and sends a message of strength and stability.
A well designed accordion folder welcome kit that includes all the firms information, contact numbers, principal's biographies, investment performance data, partnerships with other firms, copies of account information, service level agreements, and highlights about the firms accomplishments is far more impressive than a generic email. There's no better introduction to your firm, and no better way to instill confidence from the very start that you'll be a safe investment.
II. Investment Offering Kit
When you're introducing a new investment opportunity to a client the packaging of that opportunity is the first thing they see. Obviously investors don't make decisions based on the packaging, it's the details and the hard numbers that count, but the packaging sets the tone. You know the old saying "you only have one chance to make a first impression" well that goes for investments as well as people. An accordion folder turned into a detailed and organized investment offering package sets the right tone. It's more than just a sales tool it projects seriousness, strength, and stability ensuring the client is in the right frame of mind when reviewing the details and making a decision.
Since these folders can be customized with any number of tabs and pockets, smart layout can guide the investor step-by-step through every batch of paperwork. Or, add a CD holder and include video materials helping your investors through the process!
III. Client Organization Tool
For all the talk of a paperless world more documents seem to be required for everything we do and investing is hardly immune .
Using an accordion folder as an investment offering kit allows the offering kit to become a long term client organization. Most investments are long term commitments, with updated documents, statements, tax forms, compliance notices, and privacy notices arriving on a regular basis. Designed properly the accordion folder, turned investment, kit, turned client organization tool, provides repeated opportunities to reinforce your brand and remind clients of the strength and long term stability you provide.
By turning the accordion folder into a true all-in-one organizational tool, you'll be making things that much easier for your clients, as well as making it more likely they'll recommend your services to their friends.
(And don't forget, every time they open it, that's another impression and another opportunity to see all your interior messaging!)
Accordion Folders Promote Your Professional Image
You want every client walking out of your office feeling like they do business with a successful firm. They need to feel certain that their money will be safe in your hands. Accordion folders create a package that helps you send that message home, promoting your brand while bringing big benefits to every client.
Want to learn more contact us for a free sample.
Read More