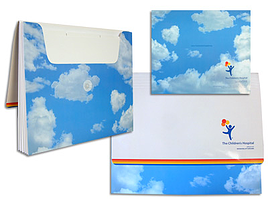 Are you looking for a cost-effective way to cut costs at your hospital, clinic, or other healthcare facility? Sturdy discharge folders can be one of the best investments you make!
After all, sometimes its the little things that add up to the biggest benefits. Providing proper post-care instructions to patients is one of the most important stages in treatment, but it's one thats often neglected in the hustle and bustle of patient discharge processes. A custom-designed discharge folder ensures every patient has every piece of information they need to ensure a full recovery.
This minor change in packaging can ultimately snowball into significant long-term savings for any healthcare provider. Let's take a look at a few of the ways this works...
Five Areas Where Custom Discharge Folders Save You Money
1 - Readmission Costs
Currently, unplanned re-admissions are one of the biggest single costs facing hospitals, and they're also one of the most preventable. Recent government studies suggest that up to 90% of unplanned re-admissions could have been prevented, and usually just with better patient instructions.
The main function of a discharge folder is holding ALL of the files and documents a patient needs, in one well-organized place. When put together properly, it can be an all-in-one road map to their recovery, from dietary information to drug interactions.
When kept together like this, in a sturdy folder built for repeated use, you'll see far fewer needless re-admissions and better overall patient care.
2 - Improved HCAHPS Scores
Beyond the direct costs of patient re-admissions, there are also their HCAHPS scores to consider. Post-care is a major element of the study, and there's a strong focus on the quality of materials the patients received.
And scoring poorly on HCAHPS potentially reduces your Federal compensation, or can even bring fines.
Well-made discharge folders help ensure you get the best possible scores, by both educating the patient as well as helping improve their sense of satisfaction with your medical services. With those scores quickly becoming one of the most important ratings of your organization, discharge folders give them a big boost.
3 - Better Online Reviews
In this new electronic era, it's becoming much more common for patients to shop around for doctors and hospitals in much the same way they do for everything else. There are entire websites dedicated to posting HCAHPS scores for hospitals, along with patient reviews of their services.
Increasingly, many hospitals cant rely on business simply coming to them. Proactive steps, like providing a top-tier package for your discharge materials, are going to improve your online reputation. That will help keep you ahead of other hospitals offering similar services.
4 - Replaces Several Separate Document Holders
Since an expanding discharge folder is so multipurpose, a single order can replace an entire set of miscellaneous folders and other packaging. They're quite customizable, with virtually any arrangement of tabs, folders, and pockets that can be fit into it. You can even add a CD holder or prescription sleeve, for more extensive audio, video, or multimedia presentations that might be relevant to the patient.
When you can get all-in-one packaging like this from a single source, that can lead to significant cost savings over sourcing multiple packages from multiple vendors. Every little bit helps, and you may find that these folders are just as useful internally as they are when given out to patients!
5 - Promote Other Services Or Partner Clinics
Virtually every flat surface on or inside a discharge folder can be customized with a variety of high-quality 4-color printed graphics, along with your choice of text. This gives you plenty of potential options in extra messaging.
If your organization offers different services, especially voluntary procedures, this is a great place to advertise them. Likewise, it's good placement for messages about partner clinics in your referral circle. They'll appreciate the extra business.
Otherwise, those spaces can also be used to provide maps, lists of contact numbers, Frequently Asked Questions, or virtually any commonplace information that would be similar for all your patients. (This reduces the bulk of paperwork inside the folder as well!)
Discharge Folders BringPeace Of Mind To Patients And Administrators
Theres a lot of utility value and real cost savings bundled up in discharge folders, and more hospitals are seeing their benefits. With long-term patient outcomes being tracked more closely than ever, and your hospital being graded more closely than ever on its performance, this is a perfect solution to a lot of problems at once.
Want to see for yourself? Click below to contact us for a free sample.