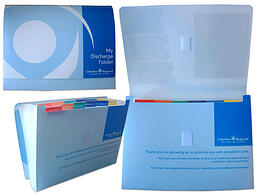 The costs and penalties associated with unplanned re-admissions are becoming a serious problem for too many hospitals. Studies undertaken by the Government have come back with grim results: Collectively, Medicare loses roughly $26 billion per year due to preventable re-admissions, with some specific disorders reaching readmission rates of 20-25% or higher.

Accordingly, the government is putting more weight on HCAHPS responses and placing ever-higher penalties on hospitals that see above-average re-admissions. Those penalties have gone up nearly 3% just in the last year.

So ultimately, needless re-admissions cost a hospital money at least three different ways:
Direct hospitalization costs due to the readmission
Later Federal penalties for high readmission rates, and
Lost business due to patients "shopping around" for hospitals with the best scores/performance
Those damages can easily amount to millions per year for any given hospital, so reducing re-admissions is a very worthwhile goal. The good news is there are low cost easy to implement solutions to help achieve this goal. Start with a better discharge process that includes a discharge folder to ensure a patient has an organized, easy to understand plan for staying healthy once they leave the hospital.
Putting A Discharge Folder At The Center Of Your Discharge Process
A Discharge Folder (sometimes called a Patient Folder) is such a simple thing, yet hospitals are finding it can make a huge difference in overall patient outcomes.

These folders are designed to be sturdy, secure, and able to hold any/all documentation a patient might need to have regarding their condition, medication, and treatment. While these can be built at any point during the patient's stay, hospitals with high patient-satisfaction numbers find they get the best results from using them as soon as a patient is admitted right through discharge.
For example, the MemorialCare system has found them highly useful, saying:

Our Patient Folders help patients stay informed and increase patient satisfaction. We believe in simplifying the patient experience. That's why MemorialCare has adopted The Patient Folder, a simple carry-all for all your important hospital papers. The folder is provided to all hospitalized patients upon admission. ... Documents given to a patient from admission to discharge, and even during physician office visits before or after discharge may be kept in one place.

The reasoning behind this is simple: A well-educated patient is likely to follow their treatment plan better, plus they'll possess more self-confidence that they can stick to the treatment plan. By explaining every step of the process, and putting all relevant documentation into the patient's discharge folder, MemorialCare and many other hospitals see improved results.

Every needless readmission will cost most hospitals at least five figures just in up-front costs, plus the other penalties associated. Yet many can be prevented with a simple discharge folder that costs, at most, a few dollars per patient.
Steps To Implementing Effective Folder-Based Discharge Policies
1 - Explain the need for education to your staff.
A reform in discharge policies is truly a hospital-wide effort. The more that EVERY staffer -from night nurses to specialist surgeons- understand the importance of education, the more you'll benefit.
It's easy to understand how staff can get "compassion fatigue" and stop seeing individual patients as people... but such attitudes ultimately only contribute to poor patient outcomes. Caregivers need to truly care about the education of each patient.
2 - Document the process step-by-step.
Don't leave patients in the dark. Patients today want information, and will be much less stressed throughout their stay if they have documentation on everything happening to them.
Having a discharge folder by the bed, or hanging by the chart, means there's a single place to put all such documentation, where anyone -the patient included- can review it as needed.
3 - Keep the discharge folder organized.
Since you have a lot of choices in the internal arrangement of your branded patient folders, it's easy to organize the space with tabs and pockets. Organizing by category such as "MEDICATION" and "DIET" is one option. For longer-term patients whose care will change over time, organization via future milestones is another option.
4 - Review all information before discharge.
The patient's folder can be worked into the discharge process itself, allowing their physician or attending nurse to double-check it before release. Reviewing the materials in the folder will help ensure no patient leaves your doors with incorrect documents in hand.
5 - Don't wait for discharge to give instructions.
In terms of cognitive learning ability, there is probably no worse time to try to educate a patient than when they're being discharged. They're tired, cranky, and just want to go home. They may even still be fuzzy-headed from medications.
It's good to have a final consultation before release, but if the patient has been educated throughout the process, this puts far less pressure on them when being discharged.

Learn more about Discharge Folders with our free guide: 3 Ways Discharge Folders Help Reduce Hospital Readmissions.

And if you're ready to try out our discharge folders for yourself...