---
Pens and writing instruments are one of the simplest, and most cost effective ways to promote your business and keep your name in front of customers and prospects.
A recent study by ASI concluded that 56% of US consumers owned logoed pens or writing instruments and the cost per impression of using a logoed pen is as low as 1/10 of a penny.
For B2B company's logoed items like pens are one of the most effective forms of advertising and promotion because they are targeted and keep you in control. B2B companies know their target market and their ideal customer but there are very few advertising mediums that allow you to target that specific group, promotional products and pens in particular allow you to do exactly that.
Not only do logoed pens allow you to target exactly who you want but they are useful. Even in today's world of keyboards and digital information pens are still used all the time especially in a business like real estate brokerage or title insurance where signing documents is par for the course.

---
Logoed pens work for lots of reasons:

They are targeted.

They are cost effective.

They are useful.

They have staying power, people hold on to them and use them over and over again.

They get passed along: how many times have you asked for or been asked "do you have a pen"

56% of US consumers own and use them,

Nearly 6 in 7, 85% of people can identify the advertiser on a pen they own.

Check out the entire study by clicking on the image below and find out how effective marketing with a simple everyday tool like a printed pen can be for your business.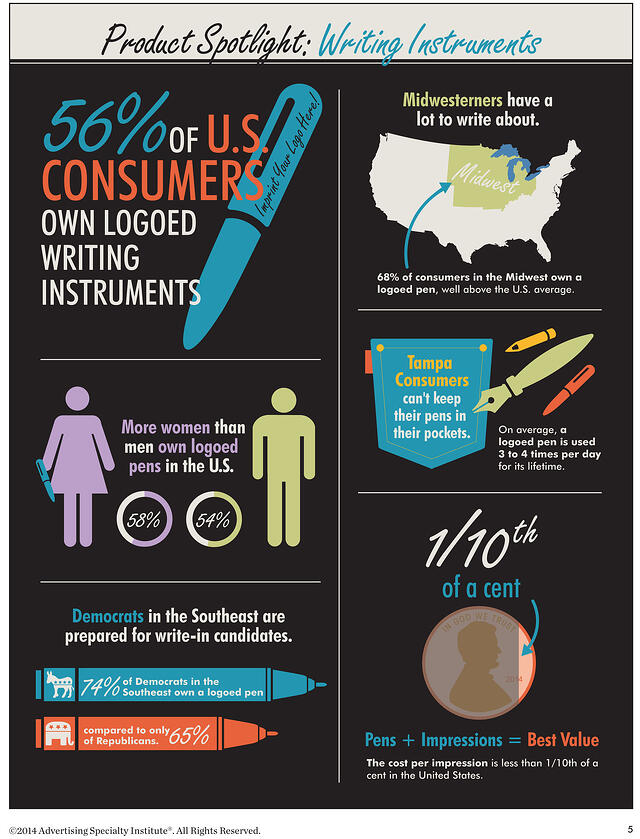 For B2B marketing and advertising promotional products offer the best value and logoed pens are one of the simplest most effective ways to promote your brand.