Presentation folders of any size are an everyday sight in today's business world, and most people don't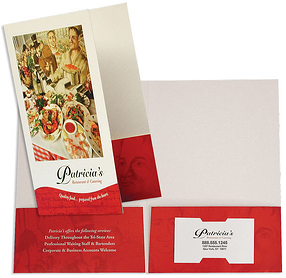 give them a second thought. Presentation folders hold documents, and they probably seem like little more than fancy envelopes.
However, mini presentation folders specifically offer some interesting opportunities for a clever packaging designer, because they can fit into much smaller places – such as your clients' pockets. Anything that encourages someone to carry your mini presentation folder along with them is only helping your outreach.
So, let's look at some ways to make use of miniature presentation folders themselves to not just advertise your company, but to make the most of their uniquely small design!
Four Fresh Ideas For Using Mini Presentation Folders
Perfect Disc Product Packaging
If you distribute products on shiny discs, a mini presentation folder might be all you need in terms of packaging. They're far less expensive than traditional jewel cases, and can fit easily into upright racks as well. In the meantime, the back and inner flaps provide plenty of room for instructions and usage illustrations.
Packaging like this can even be turned into good PR! You can't get more basic and Eco-friendly than simple recyclable cardboard. Stand out by pointing out how wasteful all the standard plastic packages are, especially with our oil worries.
A Printed-on Map Brings Them Back
If getting customers to your front door is a priority, use your miniature presentation folder as your official map as well!
Placing the map opposite the documents pocket means anyone receiving a folder has that much reason to hang onto it, intact. For businesses that need people to return with documents in hand, such as hospitals or law firms, packaging them this way can greatly increase your return rates.
It's also perfect to take to trade shows, since it presents everything someone needs to know about you in a format that fits in their pocket!
Include Some FAQs
Try using the back or interior space of your mini presentation folders to answer some common questions about you. It's also a fine opportunity to tell a bit of your company story – customers today want to feel like the entities they do business with have personality, and aren't merely faceless corporations. Some good copy here can help you really stand out.
Another option would be including a quick-reference chart that would be relevant to your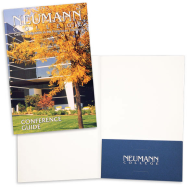 customers, at least more relevant than the usual calendar. Again, the small size of these folders encourages people to hang onto them, so look for ways to make the packaging useful to your clients!
Easily Mailed
Finally, don't forget that miniature presentation folders are also cheaper and easier to mail than traditional folders. Some sizes can even fit into standard envelopes. This cuts down on your mailing costs, as well as preventing them from getting bent up, as large folders often are.
It's a small thing, but it's still going to make an impression when your packaging comes out looking pristine. When your document folder is being used for recruitment, such as for college admissions, every little detail can make a difference when it comes to wooing the right candidate.
Get Creative With Your Presentation Folders!
So, as marketing continues to move towards getting the most possible use out of every available space, don't forget about all the extra opportunities that mini presentation folders can provide. Their distinctively small shape takes them places larger folders can't, and helps ensure they get taken where they're needed too!
Has anyone out there found any particularly creative uses for your own presentation folders? We always like hearing new ideas in our forums!