Promotional items are a great way to keep your company's brand in front of prospective clients and

referral sources. Not only do potential customers find the items useful, but the constant visual reminder of your logo, tagline and contact information furthers brand recognition.
Don't believe us? Consider these research studies:
Researchers at Baylor University found companies that use promotional items garner 22 percent more referrals than those who don't.
L.J. Market Research found professionals are more likely to recall a brand name from a promotional product instead of a print advertisement.
A study conducted at Georgia Southern University found companies that use promotional products are perceived more favorably by consumers, who are then more likely to recommend the company to others.
There's no question promotional products will positively influence your bottom line. But finding the right gift can be tricky. You don't want to spend thousands of dollars on items that get tossed out, given away or left to linger in a desk drawer.
You've got to find the right balance of functionality and promotional capability so your intended audience finds your gift invaluable. The best promotional gift is one that your targets use each and every day. That way, your brand name remains at the top of their minds, and they're grateful to have received such a useful tool that makes their day-to-day activities a bit easier.

Custom Appointment Book
So what's the solution? Many businesses find a custom appointment book makes a great gift for other professionals whom they depend on for business and referrals. Here are some reasons why a custom appointment book makes a fantastic promotional gift:
They're cost effective.
They're versatile.
They're a great canvas for your brand identifiers.
They look professional.
They're useful.
There's one catch when giving a custom appointment book to your clients and referral sources. Because it's dated material, it's usually best to give these gifts late in the year - say November or December - before your business associates buy an appointment book for themselves and yours gets tossed by the wayside.
But giving a customer appointment book around the holidays is also a boon to your marketing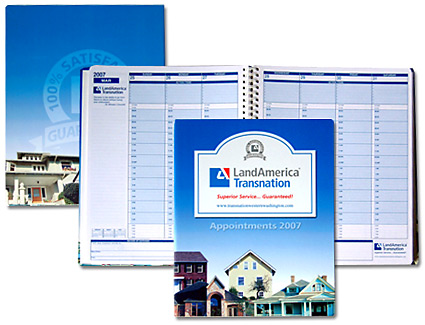 efforts.They're easy to package with other promotional items for an attractive gift and delivering them provides a great warm contact with your targets. Consider these examples:
Box the custom appointment book and gift wrap the package. Include a handwritten note from you thanking the referral source for their support in the coming year.
Package each book with an ink pen, notepad or magnet in a handsome gift bag.
Include the custom appointment book in a gift basket along with a bag of gourmet coffee and mugs with your logo. This idea works great for small offices with only a few employees.
If you really want to lavish your business associates, host a luncheon or cocktail reception. Use the opportunity to hand deliver the appointment books to each contact.
Options and Ordering
It's never too early to start thinking about holiday gifts, and an appointment book is one that will be used and appreciated throughout the year. Since you'll need some lead time to design your business's custom appointment book and approve proofs, you should give yourself more time for planning, design and production than you may think necessary. Summertime - July or August - isn't an unreasonable time frame to begin the process.
Consider your clients when thinking about the type of book to order. Would they prefer a sleek leather cover or something more carefree and colorful? And where will they use the book? In the office or on the go? That might help you determine whether to select a soft or hard cover.
Whatever you choose, custom appointment books are great gifts for the people with whom you conduct business. To ensure timely delivery, start planning now for holiday orders.