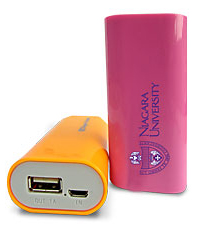 If you're looking for a new way to stay on the minds of on-the-go realtors, promotional portable powerbanks are a great option!
The best promotional products are those that will actually getusedby the recipients. It's all too easy for common items desk top items to be put in a drawer and forgotten about. When it comes to staying active in agents minds, you need something they'll actually find valuable on a day-to-day basis.
Which is where portable powerbanks come in. Most agents - if they're successful - are on the road most of the day, showing off homes. They're likely making extensive use of their mobile devices in the process - calling buyers and doing research.
If they run out of juice for their cell phone mid-day, thats a serious problem. However, a portable powerbankgives them an alternative. These small, inexpensive devices can fit in a purse or pocket, and provide hours of backup charge whenever needed.
That makes them a great promotional investment, because it's something that could be truly useful to a realtor.
Three Reasons Branded Portable Powerbanks Are A Great Way To Promote Your Brand
1 - Long Lifespan Means More Branding Power
Your average rechargeable battery today can last for years. That means every one of these could realistically see years of service, with another favorable impression every time it saves an agents business day.
Promotional products are all about impressions, being used and being seen over and over so the brand becomes second nature and instantly recognizable. With sranded portable Powerbanks you get the combination of usefulness and staying power that is practically guaranteed to create a long lasting and favorable impression for you and your company.
Powerbanks area lot like promotional USB flash drives. Both are very useful and longlasting giving you the ability to create a favorable impression and familiarity with all your important customers and prospects.
2 - Plenty Of Options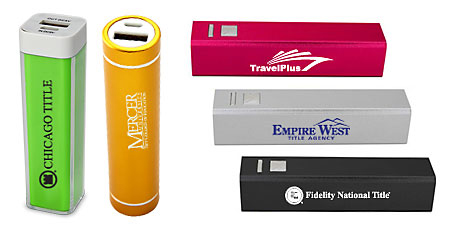 Like thumbdrives, powerbanks come in plenty of styles and varieties, and custom-printing is usually available on four sides. So think about the lives your partner agents are leading, and the best way to take advantage of the branding opportunities these unique and useful products present.
You could get models with a keychain, lanyard, or retractable lanyard. Or, pick a model with a several different plugs for better compatibility. Larger options are available as well, including batteries hefty enough to power a laptop. Either way any time your customer or prospect uses it they will silently thank you thus reinforcing the powerful branding opportunity.
3 - Visible Usage Increases Brand Exposure
Here's another benefit. Portable powerbanks are very likely to be used in public, where everyone can see them. After all, it can take some time for phones to recharge, so the powerbank will be on display as the realtorgoes about their business.
This makes them perfect as a conversation-starter as well. Plus, if the powerbank is well-crafted, eye-catching, or just plain shiny, it's going to be an immediate attention getter when it's dangling off of an agent's tablet.
You can potentially come to the attention of a lot of new eyeballs with some of these in circulation, especially if they pop up at realtors conventions...
Give The Gift Of Power To Your Real Estate Partners
It's no wonder that portable powerbanks are becoming an increasingly popular branded giveaway. They're inexpensive, reliable, long-lasting, and could potentially see use multiple times during an agents week, at least. That makes them truly valuable to realtors, and helps ensure they remember you when it's time to close a sale.