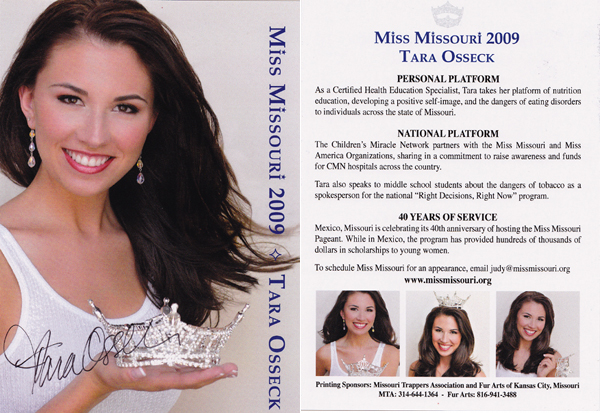 We freely admit we are biased.
If we were the judges in an Advertising Genre Beauty Pageant, it is safe to say we would vote for the print medium as the most beautiful form year after year.
To our knowledge, there is no such thing as an Advertising Genre Beauty Pageant. But ironically, we happened to recently stumble across all 53 Miss America contestants during a promotional fashion show a week before they competed for the crown.
The contestants were all seated for a traditional "meet-and-greet" with shoppers at a Las Vegas mall. All of them had gorgeous promotional postcards to autograph. But not all of their cards were designed to fully maximize the power of branding and to increase the chances of the beauty queens getting hired for future paid appearances.
Some of the postcards were simply one-sided photos with the contestant's name and home state. Others, such as the Miss Missouri souvenir above, used the back of the card to trumpet the Miss Missouri scholarship organization, the printing sponsors, Tara Osseck's personal charity and phone number contacts for hiring her.
There is no greater way for Miss Missouri to promote her career and the national pageant than with a smile and bat of the eyelashes in person. However, her photo postcard -- this one printed on a thick quality collectible stock -- extends the value of her promotional appearance for weeks, perhaps even months.
A postcard like this one likely winds up on the kitchen refrigerator, greeting everyone that comes into the house. It continually reminds people about visiting her Website or how to contact Miss Missouri to appear at a promotional event.
In short, give people a reason to want to keep your postcard or color brochure (coupons do wonders when you don't have a celebrity autograph to create value) and they will. And you will be on the short-list of phone calls when they need your goods or services.
A fabulous way to beautify your real estate documents or legal paperwork is to dress them up in a snazzy, fashionable presentation folder or accordion folder. Instead of reaching for a drabby manila envelope, your clients will appreciate how neat and organized you've made a potential paperwork mess.
Our document folders might not be as sexy as the swimsuit or evening gown competition, but there is nothing more beautiful than someone staring at your company logo and later calling you or dropping you an email.
And just like the fashion show, our presentation folders come in a variety of dazzling styles and colors!