Web to print has made a lot of news over the last couple of years and for good reason, it saves companies a ton of time and money. In a nutshell Web To Print allows businesses to manage, purchase, and proof all their printed marketing material and promotional items on line. Web to print can save marketing and procurement departments huge amounts of time and give them complete control right from their desktop.
The Internet has changed everything. In the same way Web to print has changed the way businesses manage their print marketing, its also changed the way they market their business. Inbound marketing, SEO, and social media, have revolutionized the way a company can spread the word about their business. Even the smallest companies are coming up with creative ways to get people talking about them on the web, check out how this local restaurant in Waltham MA uses Print to Web to create buzz about their business.
In A Pickle a local breakfast and lunch diner is using print to drive customers to the web so they can spread the news, the place is always packed from 6 am until they close at 3pm so it must be working. A simple postcard is included with every take out order and with every check, it asks customers to talk about them on the web via Facebook, Yelp, Twitter and any place else the word can be spread.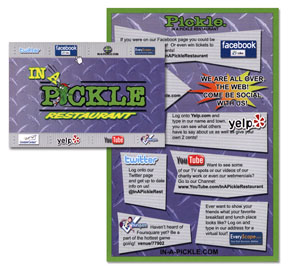 As it says on the postcard, "we're all over the web come be social with us". Social media and The Web can drive business to your door, Print to Web can drive people to The Web to spread the word.