When you give a promotional item to a client, you're tossing a metaphoric bottle into the oceans. You'll never know what happened to that item after it leaves your sight; you can only hope that it successfully leads them to one day call your firm for help.
Of course, nothing says you can't try to tilt the odds in your favor. The best promotional items are those that a lead is most likely to hang onto and continue to use, right? Well, have you considered how useful a custom appointment book might be in someone's life?

A Custom Appointment Book: The 365-Day Advertisement
Even though electronic devices like tablets and smartphones are trying to take over our note-taking, it still seems like they're too much bother when taking down a quick note. Plenty of people are still using paper-based day planners, and it's easy to see why. It's still easier than fooling with touchscreens.
From its handsome leatherette wraparound cover, to its full-color interior pages, a good appointment book is still far nicer and more useful than any gizmo in businessman's day to day life. It compresses note space, calendars, calculation tables, phone records, and numerous other records in a single easily-accessible place.
And if your business's name is on your cover, that's going to keep you on their mind virtually every day of the year!
Pick The Right Custom Appointment Book For Your Customers
The key to a really great promotional item is its ability to immediately appeal to the target market. With dozens of choices in design, style, and layout – as well as numerous opportunities for custom content – you can create a custom day planner that's exactly what your clients need.
You could include:
Data tables specific to certain industries, such as real estate.

Optional pages for vehicle maintenance records, perfect for drivers.

Two weeks of the coming January, to extend its utility.

Full-color photographic covers.

Custom-written content throughout.

An introductory section, with your own pitch.

A wraparound cover, for a classic touch.
Additionally, we offer dozens of options for layouts of the interior pages, to best suit your clients. What it adds up to is a customer day planner that your leads may simply find too nice to throw away!
Invest In Promotional Items That Bring Real Returns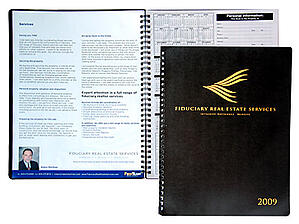 Sure, a custom appointment book costs more than a simple pen or legal pad, but what you're paying for is the increased utility value. Most promotional items end up ignored, or thrown out. Only the best ones are kept, but those that are build an immediate bridge between you and the lead.
Since you can customize the content throughout, it means you can keep providing new ways to make yourself relevant to a client. Include custom messages on the quarterly dividers, or consider running different promotions every month for people who bring their planners with them. With the right content inside, you can further increase the chances of them coming to rely on your planner!
A custom day planner really brings it all together – classic looks, great design, and loads of utility value. That makes it one of the single most useful promotional items you could be giving out. It gives a client plenty of different reasons to keep it around and put it to good use. Then, every time they do, they'll be thinking of you.
With a customer appointment book, every day could be the day they decide to call!
If you'd like to see a sample of a great promotional item, drop us a line and we'll be happy to send along an example of our work. Just let us know how we can best fit your needs.