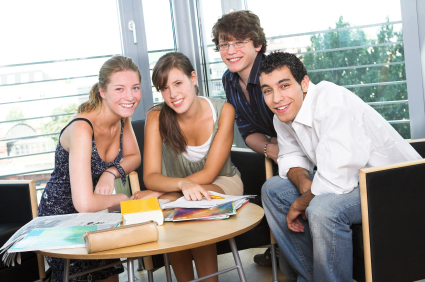 Colleges seeking students and their parents make a big investment when they select the insitution they plan to attend for the next four years. One of the important tools a University marketer has to attract students are the printed brochures, printed booklets and printed folders that are sent out when a prospective student requests additional information.
The purpose of mailing the printed brochures is to create an exciting presentation to attract students to their university or college versus the competition.
How to make your printed brochure more exciting?
Design the brochure from the student's perspective. Kids want to know what college life is like - share the day from the dorm to the class to the social activities.
Add pictures of happy students. No one wants to go to a school where everyone is grumpy. Pick pictures that show people interacting and smiling to print in your booklet.
Add value with incentives to visit. Offer a way to visit the college and a college t-shirt or hat to register in advance. College paraphernalia goes a long way towards establishing loyalty and connecting the prospective student with your institute.
Feature the school teams. Evoking college spirit and highlighting winning teams is another way to connect with students. Offer a registration form for students to sign up for the team or to request commemorative printed posters. Forms are a great way to get student information for following-up later.
Use a decorative and colorfully printed envelope for mailing the college brochure or booklet to prospective students. There's nothing worse than boring. If another college sends a fun, brightly colored hip envelope, and yours is plain manilla, which do you think the student will open first? Also adding an item to give the envelope some dimension also adds to the intrigue.
University brochures don't have to be boring. When applying to various colleges, there is an intangible emotion that looking over the College Brochure will convey. For many students the next four years will shape their future.
College is a big investment in many ways. Be sure that the information you send to prospects is interesting and rewarding.